The Nankivell News




by Doug Mumma
---
This page is devoted to my wife's English ancestors who used the surname of Nankivell. Joan's grandmother's name was Jane (Jennie) Elizabeth Nankivell and she was born in the Isle of Dogs area of London. Due to the tough economic times that prevailed in England at the turn of the century, Jennie and her children, along with two other sisters, migrated from England to Canada in 1914 and then to San Diego, California in 1915. After a few years, they were joined by another sister and a brother, all settling in the San Francisco Bay Area where many of their descendants live today. The family has remained very close.
The primary concentration and origins of families with the Nankivell surname in England is found in the St. Columb Major area of Cornwall. Unfortunately, we have not been able to connect Joan's Nankivell ancestors with any of the known Nankivell families of Cornwall. Joan's earliest Nankivell begins with William who was born about 1789 in Poplar and he married Ann North, born 25 Nov 1790, also in Poplar. This docklands area of the Thames River in London is called the "East End" where they could "hear Bow Bells". Anyone living near enough to hear the bells of Bow Church was generally thought to be Cockney, but the Nankivells were not. This branch of the Nankivell family lived in the Poplar/Isle of Dogs area of London for over 125 years before some descendants migrated to America. The families made their livings by serving ships and the shipping industry in one capacity or another. A descendant chart of this William Nankivell can be viewed at
http://www.mumma.org/nankivell/WilliamNankivell.pdf
Much of the early research into the origins and interconnections of the various Nankivell branches was done by an Edith Nankivell, who, unfortunately died in 1991 long before her research was completed. In Edith's numbering system, this branch of the Nankivell family was identified as "Family 307".
Another Nankivell researcher who has gathered extensive information about the Nankivell families is Anne Williams of Spalding, South Australia. She has been researching Nankivell family history for over 30 years. An excerpt from a book written and published by Anne in 1986 is shown below. Anne Williams may be contacted by e-mail at oznank@rbe.net.au
---
History of the Nankivell Family
(from Anne Williams' 1986 Book, "Nankivell, A Family Affair")
Exact origins of the family seem lost in the mix of early peoples of Cornwall. Some believe that the family extends back to the early Celts who inhabited Cornwall. Some people believe that people from the Iberian Peninsula came to England about the time of Christ, looking for tin, which at that time could be picked up from the surface of the earth. Others of the family believe that the family came from France with William the Conqueror in 1066 or were survivors of the Spanish Armada of 1588.
The origin of the name Nankivell is variously derived fromNan/Nant/Nance, which is Cornish for a valley, plus a personal name Cyfel, or a form of Welsh Ceffyl, meaning "horses". The actual place from which the family took their name is no doubt Nanskeval in the Parish of St Mawgan in Pyclar, which was spelt Nanscuvel in 1277. All that remains of Nanskeval is a glen of fine old oak trees about two miles from St Columb Major.
The Dictionary of British Surnames gives the following reference to the name:
Nankivell - from Nans-Cyfel: Valley of Cyfel (personal name), or possibly NansCeffyl (Welsh) Valley of Horse found midwest and northern Cornwall.
There is also a theory that the name is pure Celtic and means the "Glen of Woodcocks". Whichever, the name means a type of glen or valley.
The earliest known record of a clan member is dated 1324, at which time the lands of St Columb Major were conveyed and granted to Odoni de Nanscuvel and Rose his wife. The estate is very old; and none of the original buildings remain. Other early surviving records include: Nanscuvel of 1277; John Nanscuvel of 1327 and 1362; Richard Nanscuvel of 1394 and Odo cle Nankevill, a cleric who lived in 1375.
About 1400 a King's Herald, by the name of Typpett, came into possession of Nankivell property and then took the family name. The Typpett family became known as Typpett alias Nankivell, then TyppettNankivell, then Nankivell. This Nankivell family is still associated with the area of St Columb Major.
The family of St Columb Major, Cornwall, reaches back furthest into antiquity with its documentation beginning about A.D. 1450 with Typpett, the King's Herald, coming into possession of the Nankivell lands. Earliest records show mostly the line of inheriting sons. It is thus difficult to establish connections with this family, but tradition has it that there are many connections.
A proclamation was made by Henry V that any Coat of Arms not in existence at the Battle of Agincourt in 1415 were forbidden and that Coats of Arms could only be inherited or granted by the King. Therefore one can assume that the Nankivell Coats of Arms were in existence before 1415.
Between 1530 and 1686 heralds recorded all coats of arms in existence and the genealogies of those bearing them and it is from the Heralds Visitations of 1620 when it appears that several generations before that year there was a certain Typpett Nankevell of St Columb Major. From him descended various Nankivells until John in 1620 described himself as John Nankivell "alias Tippett".
The Coat of Arms recorded at the Visitation was "Argent, on a Cross Hummettee Sable, Voided". In other words, a silver shield with a short armed black cross, the centre of the cross being cut away to leave just the black outline. Variations of this and also different Arms for Tippett were used at various times, with or without crests, i.e. helmet decoration.
In most cases arms were not granted for any special reason of merit, worthy deeds, etc. In general they were simply assumed or officially registered as the distinctive device of a more or less prominent family.
The ancient Coat of Arms of the Nance family of Cornwall are similar, thus, it is possible that the Nankivells, also known as Nancekivell, may have adopted their Arms owing to a similarity in the two names.
A broad history of the family from the 1600s seems to be that the Nankivells were miners (tinners) of Cornwall.
The Nankivells, who in the late 17th century, settled at St Agnes, are thought to descend from the St Columb family. By about 1690, the third generation of the St Agnes family included four brothers: Richard, Benjamin, Samuel and Samson. Each of the brothers left many descendants.
---
Nankivell Surname DNA Project
It is generally expected that all families with the Nankivell surname (and similar name spellings) descend from a common ancestor in Corwall, England, but documentation is lacking in many cases. There are a large number of Nankivell branches that can not be connected with other families. Such is the case with my wife's Nankivell ancestors. Her earliest documented Nankivell is a William Nankivell who was born about 1789 in Poplar district of London. He and his descendants were associated with the sea in one capacity or another. Family legends and traditions suggest that the family came from Cornwall, but no documented proof has ever been found.
Y chromosome DNA research has demonstrated that men who exhibit the same DNA "fingerprint", called a haplotype, share a common ancestor in the recent past and are genetically related. I have demonstrated this myself with the Mumma Surname DNA Project which was the first privately funded surname project started over 10 years ago. From the results of this project, an adopted man was determined to be a Mumma descendant and eventually the connection was discovered. Likewise, several men who use the MUMMA surname were determined to not be Mumma descendants, but actually Mummey descendants who genetic ancestry is quite different. You may view the results of this project at:
http://www.mumma.org/dna/MummaDNA67.html or http://www.mumma.org/dna/MummaDNA67.pdf
Because of the successes of the Mumma Surname Project, these same techniques can easily be applied to the Nankivell Surname. From the results of such a project, we can prove or disprove whether the various Nankivell families or surname spelling variations share a common ancestry and descended from John Typpett-Nanskevall, who appeared in the Columb Major area of Cornwall in the 1400s.
The concept is quite simple. DNA samples of men with the Nankievll surname and known genealogies linked to Cornwall are analyzed. The results of their analysis will provide a baseline ancestral DNA "fingerprint", or haplotype, of the Nankivell Surname. Then the DNA from other men who genealogies are not as well established can be analyzed to confirm that they too descend from the Cornwall Nankivells. This is also an ideal method to confirm or disprove whether the surnames of Nancekivell, Nankervis, Nankerwel, Nankerwis, Nankivell, and Nankivelle all share a common genetic ancestry and possibly lead to a ancestral connection in France.
I created a "Nankivell" surname project using Family Tree DNA, the oldest and most distinguished company doing Y-chromosome analyses for surname studies. To insure that the appropriate precision is obtained from the results, a 37 marker analysis is used as the "standard" analysis for this project. So far, four men with the Nankivell surname have participated in the project. Three of them have documented genealogies back to John Typpett-Nanskevall. The other one, a cousin of my wife, can only trace back to William Nankivell, born about 1789 in the Poplar (Isle of Dogs) area of Longdon. The results were very exciting and can be viewed on a Nankivell project page hosted by FTDNA at:
http://www.familytreedna.com/public/nankivell/
There was almost a perfect match between the 37 marker results of these four men with only two mutations appearing. This clearly shows that all of these men shared a common ancestor in the recent past and my wife's Nankivell ancestor's originally lived in Cornwall. There are few other men in the entire FTDNA database of over 65,000, 37 marker haplotype results are within a genetic distance of 4 (i.e. 4 mutations). Several of the men have had additional markers measured and to further define the Nankivell surname.
Summary - From these initial results, a Nankivell Surname ancestral haplotype has been determined which can be used as a reference comparison with other Y-chromosome results. Hopefully additional men with the Nankivell surname will submit their DNA for analysis to verify the results and to provide DNA data from additional Nankivell branches.
Please contact me if you have additional questions.
---
Joan's Nankivell & Steynor Ancestors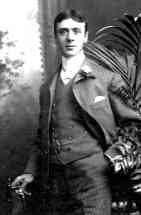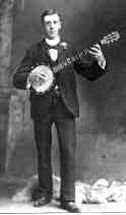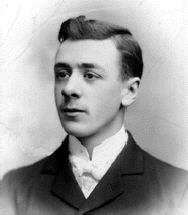 Three pictures of Joan's grandfather, Harold Steynor, taken between 1900 and 1910. He played the banjo professionally before his marriage to Jane Nankivell.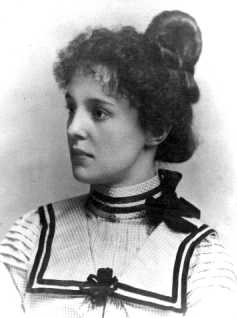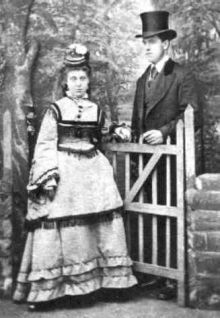 Shown above is a picture of Joan's grandmother, Jane (Jennie) Elizabeth Nankivell Steynor (taken abt. 1900). Next is a photograph of Joan's great grandfather, James Frederick Nankivell, and her great grandmother, Amelia Maria Taylor Stewart, taken on their wedding day, 28 February 1874.
---
American Nankivell/Steynor Family Gatherings
Joan's family of aunts and uncles has always had very close bonds, starting with their origins in London. The families were poor and needed to rely on each other for support to live and survive. These close connections remained strong during their migration from England to Canada in 1914, to San Diego, California in 1915 and eventually to the San Francisco Bay area around 1916. You may view a story I created describing the migration of our branch of the family to America by clicking on this link Nankivell Migration to America. The families always got together each year to celebrate the joy of their families and this tradition continues to this day with an annual family Christmas party of the Nankivell-Steynor families. Pictures of these gatherings are shown below. I consider their first Christmas together in Canada in 1914 as the first party. Unfortunately, not many pictures survive from those early gatherings.
In 1991, a new tradition was started with an annual gathering of all of Joan's first cousins at some cabins owned by several of the cousins near the town of Quincy, not far from Lake Tahoe in the High Sierra Mountains of California. The ages of all her cousins are within a few years and they grew up living very near each other, almost like brothers and sisters. This annual retreat to the mountains allows them to continue their close relationships and reminisce about their fond childhood memories. The families were never rich monetarily, but have always been blessed with an abundance of love and friendship. This group of cabins have been nicknamed the Quincy Quality Compound.
[Click on an image to view a higher resolution picture or individual pictures, if available]
| | | | |
| --- | --- | --- | --- |
| | | | Annual Nankivell - Steynor Christmas Parties |
| | | | December 1935 - The 21th annual Nankivell/Steynor Christmas Party was held at the Hudson Street house in Oakland. There were 23+ attendees. |
| | Annual QQC Gatherings of the Senior Steynors | | December 1974 - The 60th annual Nankivell/Steynor Christmas Party was held at the Montclair Clubhouse in Oakland. There were 41+ attendees. |
| | July 30 - August 2, 1993 - The 1st meeting of the senior Steynor Clan members at the QQC (Quincy Quality Compound) near Quincy, CA. | | December 4, 1993 - The 79th annual Nankivell/Steynor Christmas Party at the Brookmeadow Clubhouse in Livermore. There were 42 attendees. |
| | July 29 - July 31, 1994 - The 2nd annual meeting of the QQC. | | December 6, 1994 - The 80th annual Nankivell/Steynor Christmas Party. |
| | July 28 - July 30, 1995 - The 3rd annual meeting of the QQC. | | December 2, 1995 - The 81st annual Nankivell/Steynor Christmas Party. |
| | July 19 - July 21, 1996 - The 4th annual meeting of the QQC. | | December 7, 1996 - The 82nd annual Nankivell/Steynor Christmas Party. There were 61 attendees. |
| | July 18 - July 20, 1997 - The 5th annual meeting of the QQC. | | December 6, 1997 - The 83rd annual Nankivell/Steynor Christmas Party. There were 60 attendees. |
| | July 16 - 19, 1998 - The 6th annual meeting of the QQC. | | December 6, 1998 - The 84th annual Nankivell/Steynor Christmas Party. There were 60 attendees. |
| | July 22 - 25, 1999 - The 7th annual meeting of the QQC. | | December 4, 1999 - The 85th annual Nankivell/Steynor Christmas Party. There were 62 attendees. |
| | July 13 - July 16, 2000 - The 8th annual meeting of the QQC. | | December 2, 2000 - The 86th annual Nankivell/Steynor Christmas Party. There were 59 attendees. |
| | August 2 - August 5, 2001 - The 9th annual meeting of the QQC. | | December 2, 2001 - The 87th annual Nankivell/Steynor Christmas Party. There were 62 attendees. |
| | July 25 - July 28, 2002 - The 10th annual meeting of the QQC. | | December 7, 2002 - The 88th annual Nankivell/Steynor Christmas Party. There were 46 attendees. |
| | July 31 - August 3, 2003 - The 11th annual meeting of the QQC. | | December 6, 2003 - The 89th annual Nankivell/Steynor Christmas Party. There were 49 attendees. Click HERE to view/download an index key for the people in the photo. |
| | July 28 - July 31, 2004 - The 12th annual meeting of the QQC. | | December 4, 2004 - The 90th annual Nankivell/Steynor Christmas Party. There were 57 attendees. |
| | July 25 - July 28, 2005 - The 13th annual meeting of the QQC. Additional photos of the frivolity can be seen by CLICKING HERE. | | December 3, 2005 - The 91st annual Nankivell/Steynor Christmas Party. There were 55 attendees. Party photos with Santa Claus are available by CLICKING HERE. |
| | July 13 - July 16, 2006 - The 14th annual meeting of the QQC. | | December 2, 2006 - The 92nd annual Nankivell/Steynor Christmas Party. There were 28 attendees. |
| | July 12 - July 15, 2007 - The 15th annual meeting of the QQC. | | December 1, 2007 - The 93rd annual Nankivell/Steynor Christmas Party. There were 39 attendees. |
| | July 17 - July 20, 2008 - The 16th annual meeting of the QQC was not held in 2008 due to heavy smoke in the air from local forest fires. | | December 7, 2008 - The 94th annual Nankivell/Steynor Christmas Party. There were 43 attendees. |
| | July 16 - July 19, 2009 - The 16th annual meeting of the QQC was held 1 year late. | | December 6, 2009 - The 95th annual Nankivell/Steynor Christmas Party. There were 32 attendees. |
| | July 15 - July 18, 2010 - The 17th annual meeting of the QQC. | | December 5, 2010 - The 96th annual Nankivell/Steynor Christmas Party. There were 36 attendees. |
| | The annual meeting of the QQC has been disontinued. | | December 4, 2011 - The 97th annual Nankivell/Steynor Christmas Party. There were 23 attendees. |
| | | | The annual Nankivell Xmas Party has been discontinued. |
---
Return to the Doug & Joan's Home Page


08 Jun 2014, 22:37:54